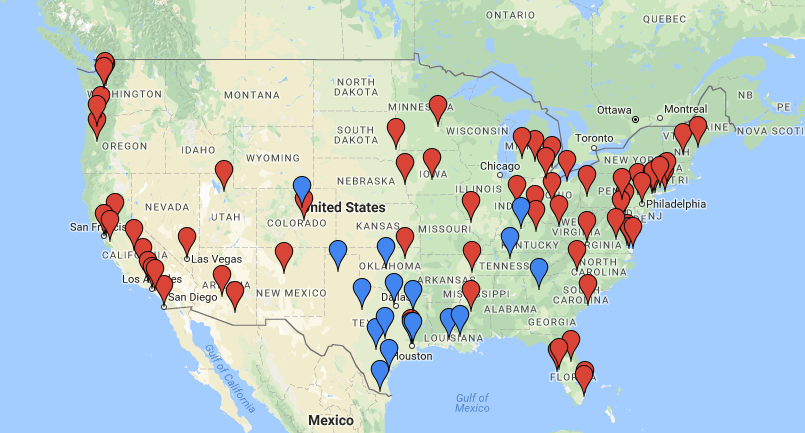 Demystifying Furniture Delivery - What You Need to Know Before You Purchase
Here we'll focus on arguably the most important part of the process once you've decided on your new interior - getting it to you!  After a decade in the furniture industry, we know the concerns of our clientele, and trust us when we say we have heard it all. That's why we've developed strategic partnerships with delivery companies around the US (see locations above) to build confidence with their timing, consistency and professionalism and pass that confidence onto to you, the customer.  One of our core vales at Trade Source is Optimal Delivery Service.  We want to make it the best experience possible and here is a quick look at how we make that happen.
Want to see what the average day at one of our partners distribution networks looks like?
 We've looked previously at the quality of the furniture you'll find at Trade Source and how much of it is in stock for quick delivery.  So part of optimizing the delivery process is getting it to you in a timely manner, but also communicating the stages so that you have a realistic view of whats to come.  While furniture shoppers are acting more and more consistently in their online shopping habits, delivery logistic companies have a increasing workload made more difficult by the fact that no two manufacturers act alike. In an attempt to streamline the process we offer two levels of delivery service:
White Glove Delivery - This means placing delivery items exactly where the clients want them within a home or facility with unpacking, light assembly, and debris removal services included. White Glove Delivery is included in parts of the US like New York City when certain thresholds are met.  In some cases, a haul away service for your existing furniture piece may be included as well!
Standard Quick Ship - Included delivery with Quick Ship collections often means outside delivery.  Outside delivery involves product on a pallet placed curbside, in your driveway or garage.  Our customers often choose this service, especially with the Innovation sofa collection. Some of our Quick Ship items are available for drop ship via FedEx/UPS and will be confirmed when you place your order.  Upgrades to inside or White Glove Delivery can be made available upon your order for your consideration.
Let us know your delivery requirements and we'll walk you through the process from start to finish!
Contact us with any delivery questions you might have in advance of your purchase.  One of the aspects that often makes the furniture industry reluctant to make delivery guarantees is that we don't know the specifics of you delivery.  The more details we have in advance the more we can prepare your optimal delivery.  Here are some of the common questions we get: Will I get tracking information? Yes.  Will the delivery team move existing furniture in our home? Maybe, we once you're in touch with the delivery crew you are welcome to ask but we make no guarantees.  What happens if it arrives damaged? It won't, but if it does we'll replace it, and fast.
Once you've moved into your new home or renovated your existing one, the furniture process is supposed to be the fun part, and we make sure that it stays that way.