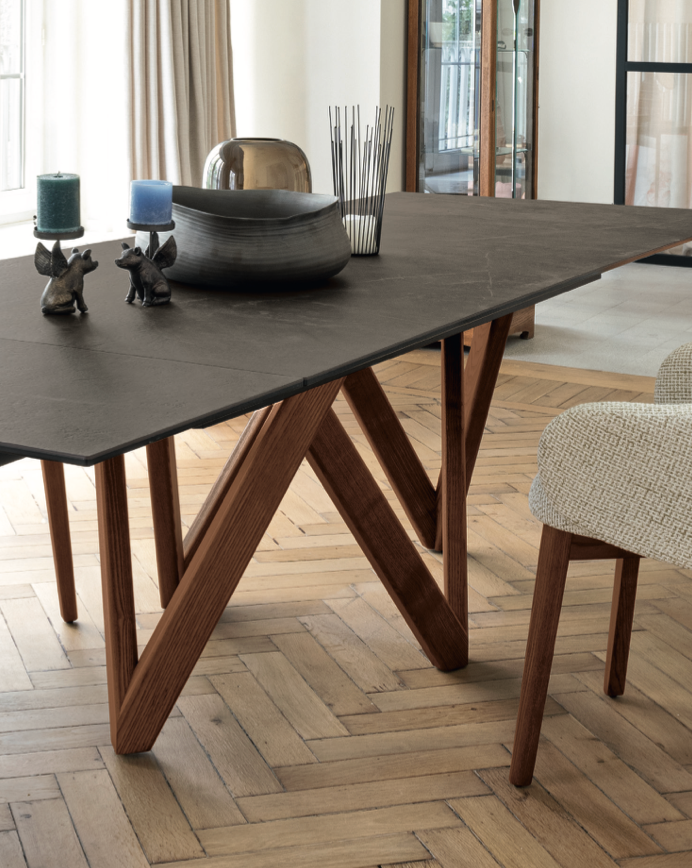 New Furniture Designs from Calligaris
Calligaris furniture is renowned for its impeccable quality and attention to detail. Each piece is meticulously crafted using the finest materials, ensuring durability and longevity. With a rich heritage spanning over 95 years, Calligaris has perfected the art of blending traditional craftsmanship with contemporary design.
Calligaris is continually rolling out new designs and this fall is no exception. Let's take a look at some of the...
New Furniture from Calligaris
The new version of the Cartesio table represents a refined and natural declination in which wood becomes the protagonist. The beauty of the grains and shades of the solid wood legs gives the Cartesio table a warm and sophisticated look, making it harmoniously placeable both in contemporary and more traditional spaces.
The table top can be customized in different finishes ensuring flexibility of adaptation to the room for which it is intended. With this updated version of the Cartesio table, elegance and functionality are combined, making it a focal point of the room and creating a cozy and refined atmosphere in the dining area.
A design variation on the best reviewed Omnia Table, Dogma is designed for conviviality and offered with black, smoke, and walnut wood base options. It's simple rectangular shape meets the warmth of the finely worked wooden legs expressing at the same time grace and solidity. 
A true contemporary classic, with a slender solid wood frame and a soft and welcoming seat. The wraparound backrest provides support for the arms and offers flexibility to the way you sit. Upholstered in fabric or leather, it is at the same time an aesthetic element and functional response to the living needs. Crafted with a slender solid wood frame, this piece exudes a contemporary classic aesthetic. Its soft and welcoming seat ensures comfort, while the wraparound backrest offers support for your arms and allows for customizable sitting positions.
With a more enveloping backrest and a generous padding, the new Holly Fab dining armchair offers a higher level of comfort, inviting people to sit and enjoy a meal or a conversation in complete relaxation.
The solid wood legs add a touch of warmth and sophistication, making this new version of the Holly chair even more suitable for cozy and elegant dining spaces.
Shop the complete Calligaris Furniture Collection with nationwide white glove delivery and expert customer service at Trade Source in Carmel, California.