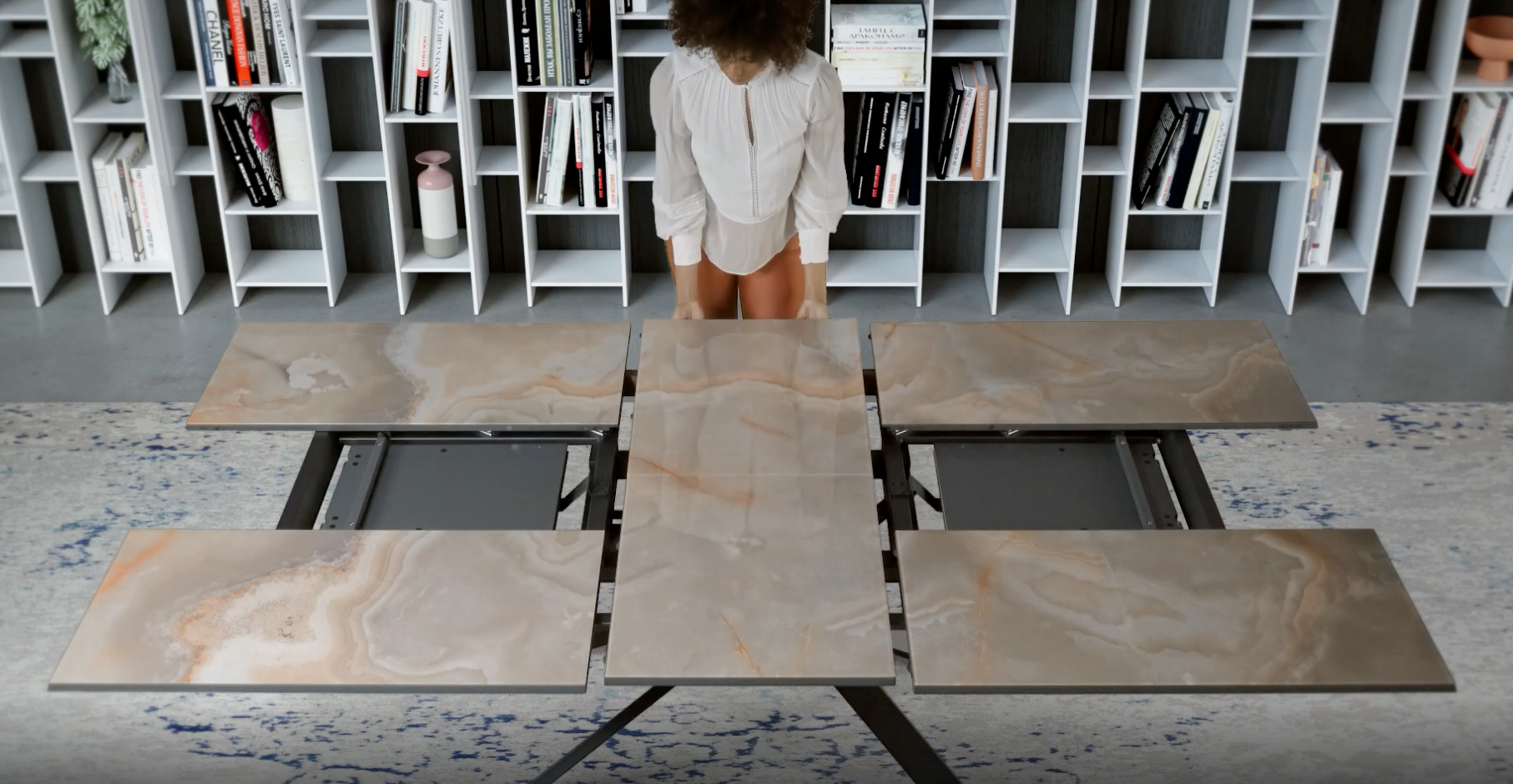 Maximizing Space with Extending Dining Tables: A Design Guide
Are you struggling with limited space in your dining area? These versatile pieces of furniture are the perfect solution for maximizing space without compromising on style or functionality.
Extending tables, also known as extension, expandable or adjustable tables, are designed to provide flexibility in seating arrangements. They come with additional leaves or panels that can be easily inserted or removed, allowing you to adjust the table's size according to your needs. Whether you have a small family dinner or a large dinner party, extending tables can accommodate everyone comfortably.
Space-Saving Design
One of the key advantages of extending tables is their space-saving design. When not in use, they can be compact and take up minimal space. However, when you have guests over, simply extend the table to create more seating area. This feature is especially beneficial for those living in apartments or smaller homes where space optimization is crucial.
Style and Versatility
Extending tables come in a wide range of styles, materials, and finishes, ensuring there is something to suit every taste and interior design. Whether you prefer a modern, minimalist look or a classic, traditional aesthetic, you can find an extending table that complements your existing furniture and enhances the overall ambiance of your dining area.
Choosing the Right Size
Before purchasing an extending table, it's important to consider the available space in your dining area. Measure the room and ensure there is enough space to fully extend the table without causing any obstructions. Additionally, think about the number of people you typically host and choose a table size that can comfortably accommodate them.
Here are some of the extending dining tables with the best reviews:
Omnia is an extendable dining table with a frame and corner legs in wood. The Omnia table contains a clever mechanism able to greatly increase the top surface. By pulling out the frame, the two legs, fitted with concealed castors, slide to one side, allowing the extension leaf, mounted on metal guides, to lift, twist into position and line up with the top with a simple movement. The legs at the corners have a diagonal cut on the inside. Also available in the XL version which is ideal for seating up to 12 guests.
The Levante is offered with various finish options sure to fit seamlessly within your space. Choose from 2 sizes with effortless extension mechanisms and add a touch by choosing the color of the visible rails. The finish options and customization features lend an easy way to make the Levante fit within any home. No matter the size, shape, or color of your space, the Levante is ready to provide a stylish upgrade.
Expands from 51" Diameter to a 51" x 65" Oval to a 65" Diameter Round. You have to watch the video below to believe it!
The patented opening mechanism is composed of a perfect overlapping of solidly held joints. The sophisticated design of the legs gives the product strength and personality. Particular attention is paid to the natural old oak finish enhanced by the central inlay that is only shown when the table is fully open.
The 4x4 transformable table is offered in two sizes. Choose from several other tabletop finishes for special order. An effortless extension mechanism allows for leaf storage and easy opening to a dining table accommodating up to 10 chairs for the smaller size and 12 chairs for the large size!
The Double dining table is a successful combination of pure lines and a solid look. Although the table looks heavy, it can very easily be extended single-handedly. It takes a few steps and no more than seconds to make space for whatever will be happening next in your home.
Also available as a rectangle, the Bok Round Extending Table is the perfect blend of classic European design and small-space saving furniture. Its round shape and exquisite solid oak construction offers a timeless aesthetic, while its extending capability adds to the timeless elegance. Experience the ultimate in refinement and luxury with this beautiful piece.
The Artistico table features rounded corner, fixed and extending table versions with self-storing leaf and an elegant pedestal base. The tabletop is offered in veneer wood, glass, Super Marble  and Super Ceramic.
Raffles Extendable Dining Table by Maison 55 is designed to bring sophistication and style to your interior décor. Crafted from contemporary materials, it is stylish and popular, making it the perfect piece of furniture to add a touch of elegance to your home.
Available in two extension table sizes and two finishes, this extending Raffles dining table exudes an informal elegance and a relaxed coastal aesthetic. Minimal, modern Parsons-inspired forms are the perfect blank canvas for textural interest; multi-directional rough sawn ash solids and textured veneers are offset by brushed brass accents. Comfortably seats six people, or twelve when extended. Also known as the Majorca by Williams Sonoma.
See every extending dining table we have to offer at Trade Source.
Caring for Your Extending Table
To ensure the longevity of your extending table, it's essential to follow proper care and maintenance guidelines. Regularly clean the table with a soft, damp cloth and avoid using harsh chemicals or abrasive cleaners that can damage the surface. Additionally, be cautious when extending or retracting the table to prevent any accidental damage.
Maximizing space with extending tables is a smart and practical choice for anyone looking to optimize their dining area. With their space-saving design, versatility, and stylish options, these tables offer the perfect solution for both everyday use and entertaining guests. Invest in an extending table today and transform your dining experience!
Shop the complete Extending Dining Table Collection with nationwide white glove delivery and expert customer service at Trade Source in Carmel, California.