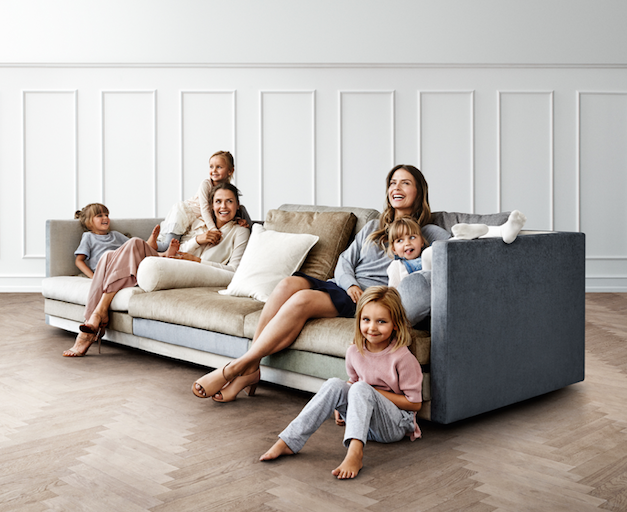 Best Sofa Fabrics for Dogs, Cats, Kids and the Inevitable Red Wine Spill.
When considering a sofa purchase, construction quality and fabric performance are of utmost priority. Many top furniture brands perform rigorous quality tests to gauge the integrity of their designs and the fabrics they offer in house. With most manufacturers you also have the option to do COM Customer's Own Material. While each model offers a unique mix of attractiveness, durability and comfort, knowing what to look for when it comes to these compositional tests will help you make the decision that's right for you, your home, and your lifestyle.
What To Know When Selecting Sofa Fabrics
High-quality furniture brands will perform fabric or leather tests to assess the durability of fabrics, accounting for its width and weight as well. The Martindale & Wyzenbeek tests are performed most commonly on man-made fabrics. Both Tests have concluded that there is no direct correlation between the cost of a fabric and its ability to withstand abrasion. The good news is that for residential usage, fabrics with a lower cycle count should not be too indicative of low performance or durability.
The Martindale Test
The Martindale test is most commonly used within European and Asian based furniture makers. It is performed by rubbing a piece of wool cloth in a figure-8 motion to a fabric sample that is flat-mounted. This testing movement mimics the motions that are common on residential upholstery usage, such as non-linear movement like swerving and scooting. The number of cycles that the sample can withstand before showing a change in condition is its abrasion rating. Some Martindale cycle scores to keep in mind when considering how your upholstery will be utilized:
6,000-9,000 Martindale cycles = light residential use/decorative

9,000-20,000 Martindale cycles = medium residential use
20,000 Martindale cycles = general commercial use

40,000 Martindale cycles = heavy duty commercial use
The Wyzenbeek Test
The Wyzenbeek Test is most commonly used by United States furniture makers. It is performed by rubbing an abrasive cotton fabric back and forth over the fabric sample that is pulled tight over a frame. Each back and forth motion is called a "double rub," and they are counted until there is a change in the condition. This testing movement mimics the motion that is more common with commercial usage, such as getting up and down and sitting in a more linear fashion. Like the Martindale test, checks are made in intervals of 1,000 rubs or greater. Some Wyzenbeek cycle scores to keep in mind when considering how your upholstery will be utilized:
6,000-9,000 Wyzenbeek cycles = light residential use/decorative

9,000-15,000 Wyzenbeek cycles = medium residential use

15,000 Wyzenbeek cycles = general commercial use

30,000 Wyzenbeek cycles = heavy duty commercial use
Ask for the ratings supplied by each manufacturer to make sure your sofa upholstery has a durability rating you are comfortable with, an example of which can be found below.
The Taber Test for Leather
Leather is a natural material with a very different make-up than man-made materials, therefore, the Martindale & Wyzenbeek Tests are typically not used for testing leather. While the Martindale Test rubs in a figure-8 motion and the Wyzenbeek test rubs back and forth, the Taber Test uses a spinning wheel, similar to sandpaper, that spins the weather in a circular motion, similar to that of a record player. While signs of wear will be evident with leather, its intricate, natural structure will allow for high flexibility and provide both strength and durability. This makes it the ideal choice for motion furniture such as recliners. Its exposure to abrasion will develop rich patina with use.
Most upholstery leather will test in the 800-1200 range, which is suitable for all residential and commercial applications.
Understanding Sofa Construction
The Frame
A sturdy frame leads to a long-lasting piece of furniture. Most high quality furniture makers use kiln-dried hardwood as the standard, as its most durable. Softwoods, such as pine, are low cost but may warp or wobble after just a few years. Frames made of plastic, particleboard, MDF, or metal should be avoided altogether. A frame with joints connected with wooden dowels, double wooden dowels, wooden corner blocks, or metal screws and brackets mean that it is solidly constructed. Similarly, the legs should be a part of the frame, or held on with dowels or screws, not with glue alone. 
Foam
It's no surprise that with use over time, the foam in the seat and seat back will relax. It is best to start with high quality options for fiber content such as HR foam in a layer of down, or conventional foam wrapped in polyester batting. The best example of the fine balance between construction and comfort we find with Eilersen, after all they have been refining theirs designs for generations. Learn more about about sofa compositions in our previous post Under the Covers - What Makes Up an Eilersen Sofa
Springs
Most springs are sinuous, or "serpentine," in shape, which are pre assembled units of snaking wire that are close together and firm. The highest quality are made with a heavy metal, so that they are supportive, but are also stable enough to not press on the frame or sag over time. You might hear the sofa when sitting or standing up if there are springs so be sure to ask if that is something you want to avoid.
Understanding Sofa Dimensions Ergonomically

Seat Depth
A good seat should allow you to sit comfortably without having to use additional support such as a throw pillow. Your thighs should be supported by the sofa, and your knees should be bent at a 90-degree angle when seated with feet touching the floor. For a person of average height, 21-22" is generally the standard. For a taller person, 23-25" is a good option, whereas for shorter people, 20" is preferable. Several Eilersen sofas are designed with movable bolsters or back rests to accommodate different seating arrangements and different sized people. The most versatile sofa for seat depth is the popular Playground Sofa with moveable backrests but another example if you are looking for a more formal couch is the Plano or the Cocoon Sofa.
Seat Height
The seat height for modern comfortable sofas is typically between 15-20". In addition, a general rule is that the deeper the seat depth, the lower the seat height needs to be and vice versa. This ensures that overall you're getting something that is supportive and ergonomically sound.
Seat Back
The back height for the most comfortable sofa generally ranges from 26-32". For taller people, the higher end of that range may work best. However, you may want to select the back height for your sofa based on the height of your ceilings. If you have standard 8' ceilings, a low profile sofa will look best. For higher ceilings, opt for a high profile sofa so that the furniture can look balanced in the room.
Other Factors to Consider to Buy the Best Sofa
It's important to note that there are many factors, other than abrasion, that can affect the wear and tear of upholstery, including light exposure, surface treatments, embedded soil, chemicals within cleaning treatments, etc.
Color Fastness to Light
You may have heard the term "color fastness to light," which determines the effect of natural sunlight on textile colors. All textile colorants are susceptible to some fading in sunlight, as colorants by nature absorb certain wavelengths. But you don't want your colored fabric to fade too quickly over the course of its life. If you know your furniture will be consistently exposed to direct artificial or natural light, we recommend selecting a lighter color fabric to minimize its fastness.
With each fabric group available in the Eilersen collection you can review the ratings for color fastness to help reduce fading. This is especially important if the sofa will be placed near a window with direct sunlight. Here is an example from the promotional fabric groups in the Eilersen collection called Bubble II:
Keep in mind some fabrics change appearance depending on the angle from which the sofa is viewed. The change can range from a more matte and darker surface to a shinier and lighter colored one. The change is also noticeable in those areas where the fabric is exposed to wear and tear. This change is typical of velour fabrics and is an expected and intrinsic feature of the material.
We typically do not recommend pretreating or scotchgarding your fabric, as this will void the manufacturer's warranty. Instead, we suggest spot cleaning as needed, and knowing how to properly care for your upholstery. Here are some tips to take the best care of your upholstery, as needed:
Fabrics produced from blends of fibers generally require professional cleaning, in which water-based steam cleaning is recommended. You may, however, see the care instructions of "Dry clean only," which is only possible when the fabric can be removed from the frame and taken to a dry cleaner. 

Spots should be treated separately before overall cleaning takes place. Warm soap and water and a clean sponge can be successful in cleaning most types of spots. When cleaning a spot, do not overly rub the fabric. Instead, use a firm up and down blotting action, and not a scrubbing motion.

Always test the spot remover on a concealed area before working in the middle of a cushion. Best results will come from cleaning an entire area to avoid rings.

Leather furniture is relatively low-maintenance when it comes to cleaning. Leather wipes can be utilized if leather comes into contact with liquid.

If you have specific questions about cleaning a piece from Trade Source Furniture, please contact us directly to advise.
Additional Quick Tips for Sofa Maintenance and Durability
Upon request, removable sofa covers are available for Eilersen pieces, including their quick ship styles. The cost to reupholster a sofa can be about 2-3 times the amount of the original cost of the sofa, so this is a great option if you have children or pets.
Pilling is not a reflection of poor durability, but is a normal result from repeated rubbing or scuffing of an upholstery fabric. When surface fibers are continually rubbed together, they form small knots that can easily be removed with a pill shaver or de pilling comb.
While there are many aspects that make up a high quality piece of furniture, Trade Source Furniture has done the work for you and carefully vetted a high quality array of furniture by the industry's top furniture makers. If you are looking for the best sofa with dogs, with kids, or for those inclined to spill red wine, contact us reach out and ask questions from each product page and we'll point you in the right direction.