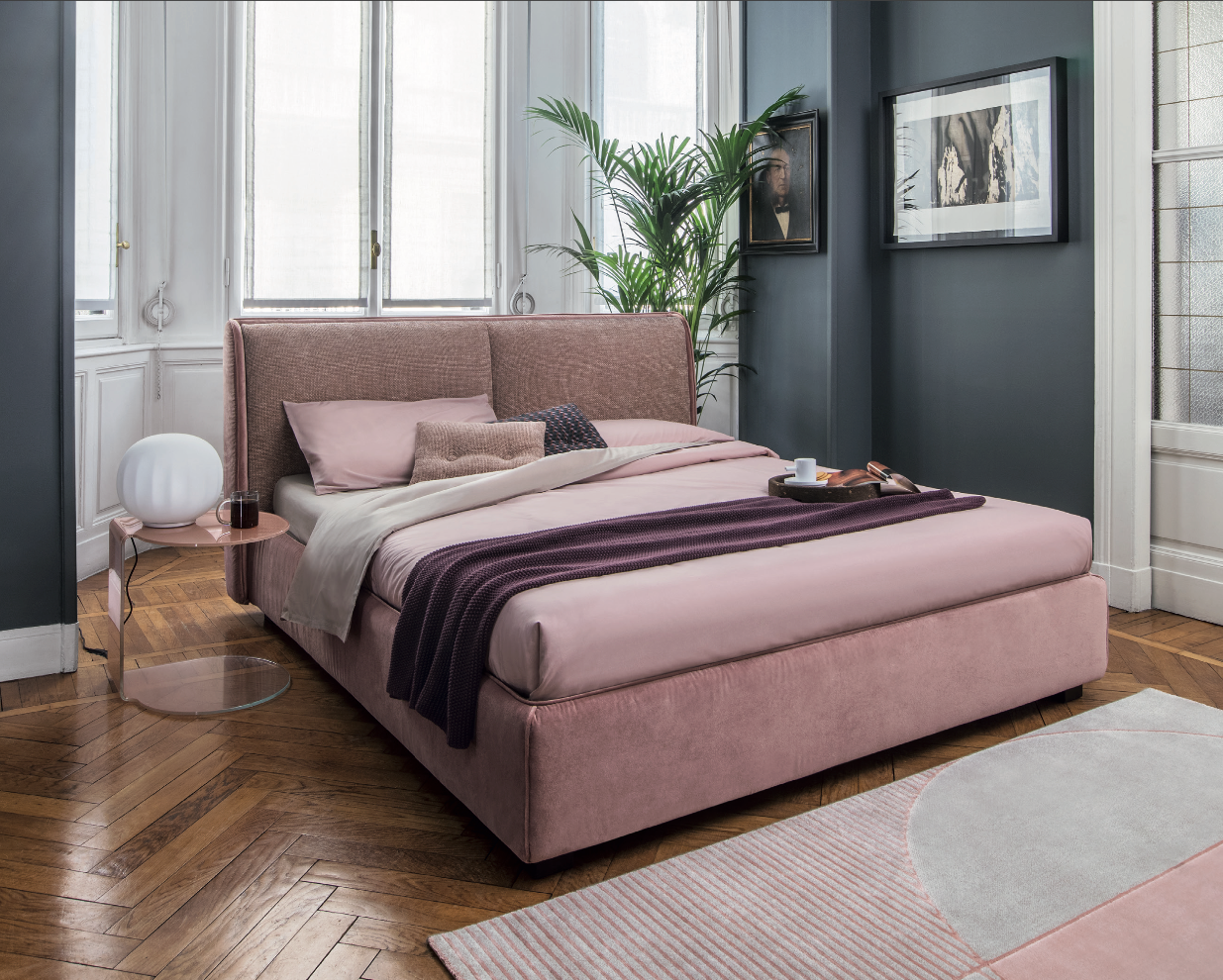 It's Bed Time - Refresh Your Bedroom with New Quick Ship Calligaris Options.
Calligaris knows exactly how to stay current with interior design by applying the right design techniques to the best materials, producing a long-lasting piece of furniture for any home. From modern to contemporary, this trusted brand blends solid wood, aluminum, ceramic, and upholstery in different ways to make every homeowner happy.
Calligaris knows that every home is completely different. That's why they make it their sole purpose to provide an array of furniture options to choose from, including but not limited to stools, seats, storage, beds, extension tables, and accessories. 
Additionally, Calligaris offers wood finished feet on carefully upholstered beds, which has become a quite popular choice, with aluminum feet as a close second. Ceramic tops on nightstands and dressers are easy to clean and highly hygienic. Fully upholstered beds showcase a variety of designs to suit a number of bedroom needs. Storage beds are perfect for rooms with little to no space - and they're being purchased left and right in numerous areas of Europe and the US because who couldn't use a little more storage?
If you're looking to furnish your bedroom, living room, or dining room areas, Calligaris is right where you want to start your interior design shopping. Take a look around and see what emphasizes the theme you're going with best.
Not all beds offer the convenient luxury of removable upholstered covers, but the New Zip bed does! This special bed was made to be resourceful, with zip on and zip off covers for the headboard and bed frame. The back of the headboard is fully finished in the contrasting zip color has four variations to choose from.
With this bed, there's a choice to select either a classic single headboard or an extra large split headboard for that super modern look. The option to adjust the height of the wooden slatted system is also available, so that the mattress can rest exactly where it needs to.
The New Zip bed is upholstered in S8P Kalix Greige material and comes with transparent plexiglass feet for stability. 
The Softly bed is the perfect combination of comfy and cozy for all types of relaxation. With its fully removable fabric cover on the headboard and bed frame, elegance and comfort won't ever have to be sacrificed.
The soft and intimate bed frame carries a fully finished headboard in one of three fabric variations. Choose from SQ1 Malmo Grey, SQ3 Malmo Greige, and SQ5 Malmo Light to satisfy the bedroom's interior needs. Be sure to note whether a scissor-lift store mechanism will work best in the room, as the Softly bed can come with or without one.
If no mechanism is preferred, a wooden slat system will be provided, which can be adjusted according to the mattress and sleeping height desired. If the mechanism is preferred, heavy-duty powder coated steel will support a gas-lift spring system underneath the bed frame.
The Boston collection encompasses a pristine and modern 2-drawer nightstand, 1-drawer nightstand, and 6-drawer dresser. Each furniture item is carefully fabricated with handle-free drawers that operate on a push-pull system. The 1/4" thick ceramic top is a complimentary addition to the collection, and it's easy to maintain. 
The feet on each item can be ordered in wood with a matching finish or aluminum. 
The 2-drawer nightstand has two drawers that are built to the same height proportions. The 1-drawer nightstand has a single drawer with an upper open compartment to house home items. The 6-drawer dresser has identical width, height, and depth measurements. 
Moving this summer? Calligaris has your back, and here's why!
Designers, decorators, and homeowners often try to move from one home to the next when the warm weather is out; no one wants to relocate heavy furniture items in the rain or snow, right?
Whatever the case may be, whether you're moving this Spring, Summer, Fall, or Winter, keep Calligaris in mind. We have a unique aesthetic to offer, with great prices and the perfect blend of materials that will get your guests complimenting your furniture choices regularly. 
Start with your bedroom furniture first, so that you can get all those personal items secured in your home. What's a new home without the perfect bed, nightstand, and dresser to go with it? Nothing! Plus, sleeping is pretty important, and it's rather difficult to get a good nights rest without a bed to hold your mattress and box spring. 
Once you select one of our carefully upholstered platform beds, check out our York, City, and Boston collections for dressers and nightstands. You'll need a place to house your clothes, and these options will get the job done right. Each drawer is created with the utmost stability to hold a good portion of clothing or home good items with no visible handles and a perfected push-pull system.
If you're looking for additional storage, the Swami bed is the perfect final addition to any bedroom. Choose from a fixed frame, scissor-lift storage mechanism, or elevated horizontal storage mechanism to suit your needs.
After the bedroom furniture is unpacked and sorted out, it's time to move on over to the unfurnished areas of the home. Calligaris will provide you with a plethora of options regarding seating, tables, and accessories. 
Check out our complete collection today, and know that we have the best prices for all of our customers, guaranteed. Download the complete Calligaris furniture collection catalogs to have it whenever and wherever you need!