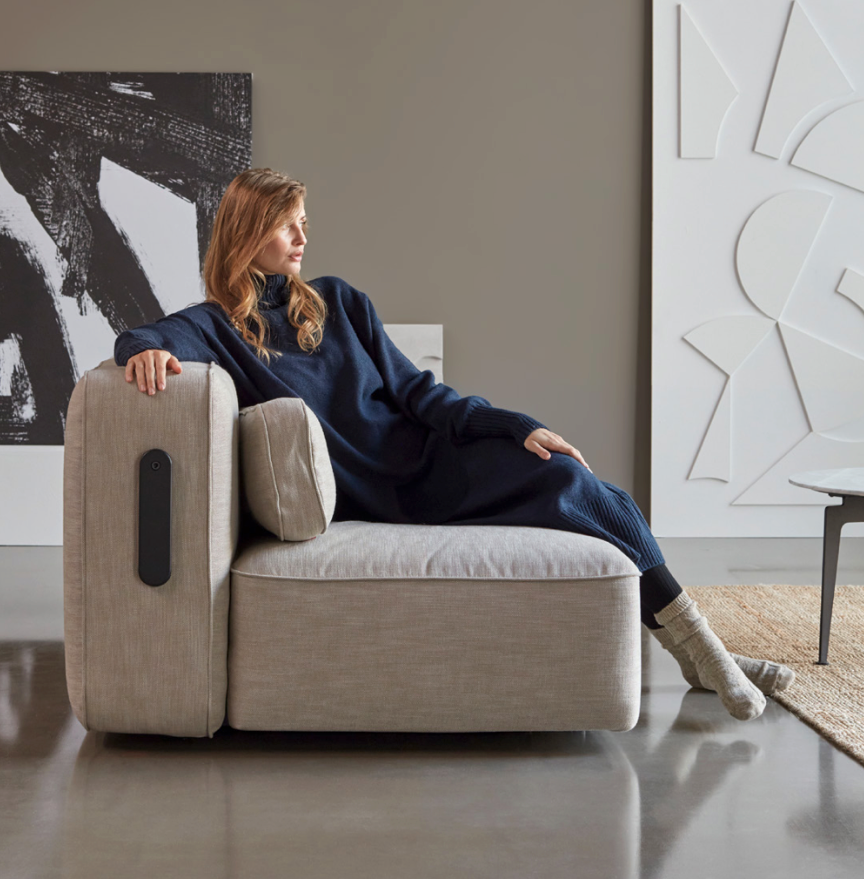 New Innovation Living Sofa Beds for 2023.
Innovation Living get the best sofa bed reviews from our customers and for good reason! They are durable, compact, well-designed, and most importantly, super comfortable. Each year the Danish design team introduces new wrinkles to their classic designs and this year was no exception.
Yonata is defined by its voluminous double sided comfort back, the generous comfortable seat, and the black signature legs in cast aluminum. Check out Yonata if you want a minimalist, informal and highly comfortable lounge sofa and bed.
Caluma Sofa with Smoked Oak Arms
The Caluma Quilt Sofa adds a new Smoked Wood leg to the classic Cassius design.  Available in 2 fabrics for quick delivery. Flip the three back pillows to show either a quilted or tufted pattern.
Cosial is designed for small space living. A compact, cozy sofa that easily turns into a large lounger or a comfortable bed. We have designed Cosial with a minimalist Nordic look that will stay attractive over time.
Conlix is designed as a practical, comfortable, minimalist sofa bed with a reference to Scandinavian mid-century modern. The washable covers are equipped with a zipper for quick and easy removal and mounting, and can be renewed as needed. The solid smoked oak legs have been given a sophisticated trumpet shape at the top. Conlix converts easily from sofa to bed and is equipped with a bedding box and Innovation Living's renowned comfort.
A growing part of the Innovation Living collection comes with detachable and washable covers. The Conlix sofa is easy to maintain as covers can be machine washed or dry cleaned. Your sofa's upholstery can be replaced if they are worn out, or if you want to freshen up your interior with a new color, instead of replacing the entire sofa.
We focus on expert customer service and optimal, nationwide delivery. Ask A Question on any product page to get in touch!