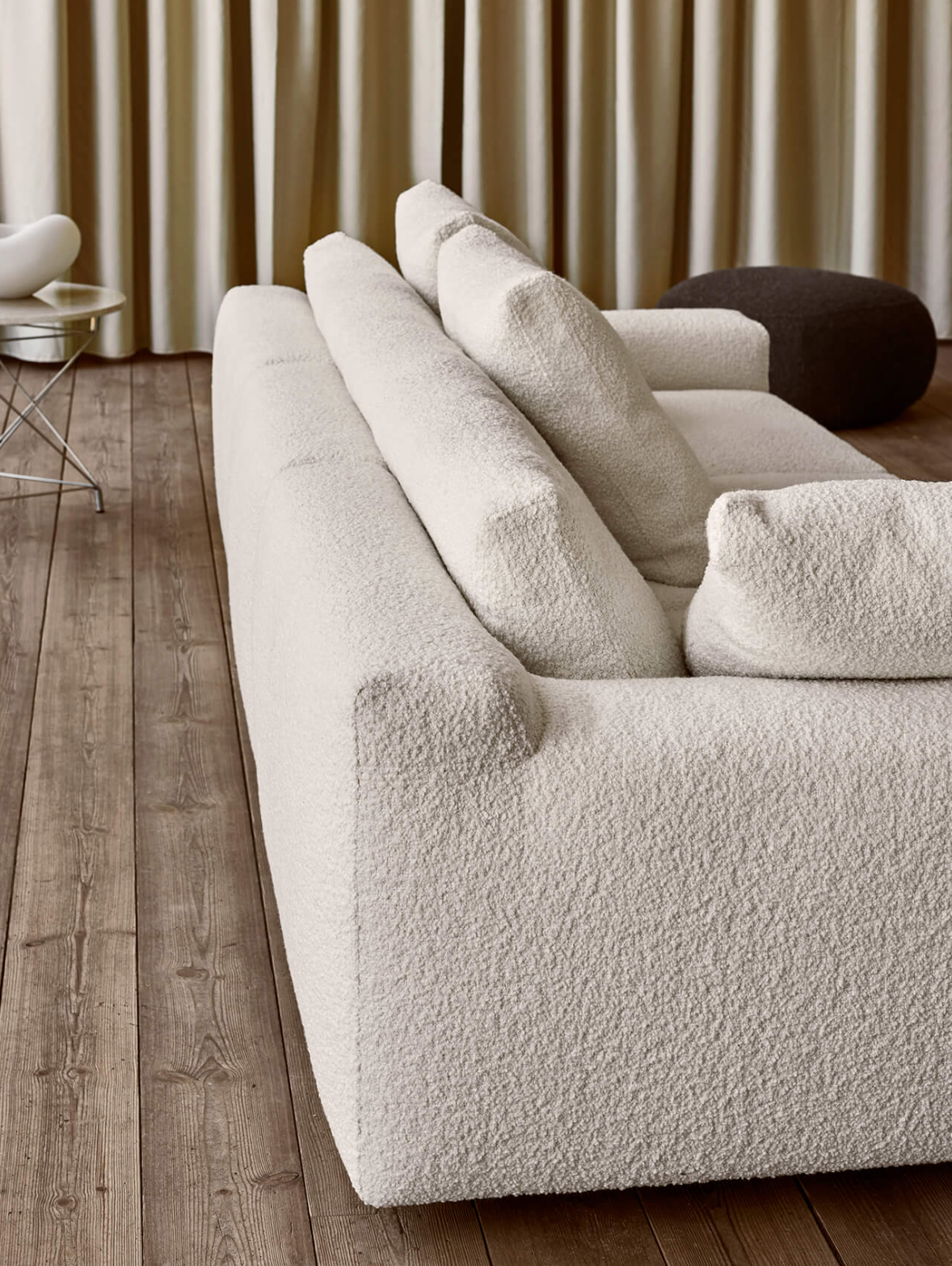 Is Performance Fabric Worth It?
We've discussed performance fabrics previously in the article Best Sofa Fabrics for Dogs, Cats, and Kids, but here we'll go into even more detail. We get this question a lot, is performance fabric worth it? The short answer is yes, primarily because Eilersen has introduced so many options into their quick ship sofa collection. 
Eilersen furniture is a true embodiment of Scandinavian minimalism, perfectly balancing functionality and aesthetic appeal. The brand, founded in 1895, has a long history of creating timeless designs that are both elegant and practical.
From their iconic sofas to their sleek lounge chairs, every piece from Eilersen exudes a sense of understated luxury. Take, for instance, the elegant Great Ash sofa, featuring a simple, yet sophisticated design that showcases the beauty of its natural materials. The sofa's clean lines and high-quality craftsmanship make it a perfect choice for any modern living space.
Eilersen's commitment to using only the best materials is evident in every piece they create. Their use of high-quality leather, soft fabrics, and natural wood creates a warm and inviting atmosphere in any room. The Streamline armchair, for example, is a stunning example of the brand's mastery of materials. Its refined silhouette and plush upholstery make it an inviting and comfortable addition to any interior.
Overall, Eilersen furniture is a testament to the power of simplicity and quality. Their commitment to using only the finest materials, paired with their minimalist design aesthetic, makes every piece a true work of art. Whether you're looking to create a cozy living space or a sophisticated office, Eilersen has something to offer for every discerning design lover.
In this article, we take a closer look at two of their iconic sofa designs - the Great Ash sofa and the Plano sofa both available for quick delivery in a performance fabric.
The Great Ash sofa is a true testament to Eilersen's mastery of materials. The sofa features a solid wood frame made from stunning ash wood, which is known for its beautiful, natural grain patterns. The frame is handcrafted with precision to ensure maximum durability and longevity. The sofa's clean, minimalist lines create a timeless aesthetic, and the comfortable cushions are upholstered in soft, high-quality fabric, inviting you to sink in and relax.
The Plano sofa, on the other hand, is a modular design that can be customized to fit any space. The sofa's design is anchored in its low profile, slim arms, and plush cushions. The seating modules can be easily reconfigured to accommodate different layouts and room sizes, making it the perfect choice for those who like to rearrange their furniture frequently. Like the Great Ash sofa, the Plano sofa is also made with high-quality materials and exceptional craftsmanship, ensuring that it is built to last.
Both the Great Ash and Plano sofas epitomize the Eilersen philosophy of "less is more." Their simple, yet elegant designs provide a perfect balance of form and function, while their use of natural materials creates a warm and inviting atmosphere in any space. The timeless designs of these sofas make them the perfect addition to any home or office, providing a stylish and comfortable place to relax and unwind.
Learn more about stain removal on the new, super durable fabric groups - Berlin, Munich, and Munster.
Is performance fabric for a sofa worth it?
Performance fabric is a highly durable and resilient material that is designed to withstand the wear and tear of everyday use. It is specifically engineered to resist stains, spills, fading, and pilling, making it an attractive option for sofas and other upholstered furniture.
Whether or not performance fabric is worth it depends on your individual needs and lifestyle. If you have children or pets, or if you frequently entertain guests, then a sofa upholstered in performance fabric may be a worthwhile investment. This is because performance fabrics are easy to clean, resistant to stains, and can withstand frequent use without showing signs of wear and tear.
Furthermore, if you live in a hot and humid climate or if your home is prone to dampness, performance fabric can be an excellent choice, as it is resistant to mold and mildew. This can help prevent the growth of unpleasant odors and keep your sofa looking and smelling fresh.
On the other hand, if you have a more formal living room or if you prefer a more delicate or luxurious fabric, performance fabric may not be the best choice. While performance fabric can be made to look and feel like traditional upholstery fabrics such as linen or velvet, some people may find it lacks the same texture or elegance.
In conclusion, if you prioritize durability, ease of maintenance, and long-lasting quality in your sofa fabric, performance fabric may be a wise investment. However, if aesthetics and texture are more important to you, then a traditional upholstery fabric may be a better choice.
What is the strongest fabric that lasts the longest for couches?
When it comes to durability and longevity for couches, there are a few fabrics that are known to be particularly strong and resilient. Here are some of the strongest fabrics that can last the longest for couches:
Leather: Leather is one of the most durable and long-lasting fabrics available for couches. It is resistant to scratches, stains, and fading and can develop a beautiful patina over time. However, leather requires regular maintenance and can be expensive.

Microfiber: Microfiber is a synthetic fabric that is designed to mimic the look and feel of suede. It is highly durable and stain-resistant, making it an excellent choice for families with children or pets. It is also more affordable than leather.

Crypton: Crypton is a specially designed performance fabric that is engineered to be highly durable, stain-resistant, and easy to clean. It is also resistant to odors and bacteria, making it an ideal choice for high-traffic areas.

Polyester blends: Polyester blends are a popular choice for couches due to their affordability and durability. They are resistant to stains, fading, and wrinkling, making them ideal for everyday use.

Olefin: Olefin is a synthetic fabric that is known for its strength and durability. It is resistant to stains, mildew, and abrasions, making it a good choice for outdoor furniture as well.
In general, the strongest fabric for couches is one that is designed to withstand frequent use and can resist stains, fading, and wear and tear. It is important to choose a fabric that suits your lifestyle and maintenance requirements to ensure that your couch lasts for many years to come.
We're online 7 days per week to provide you more info, or visit Trade Source Furniture in beautiful Carmel-by-the-Sea, California!