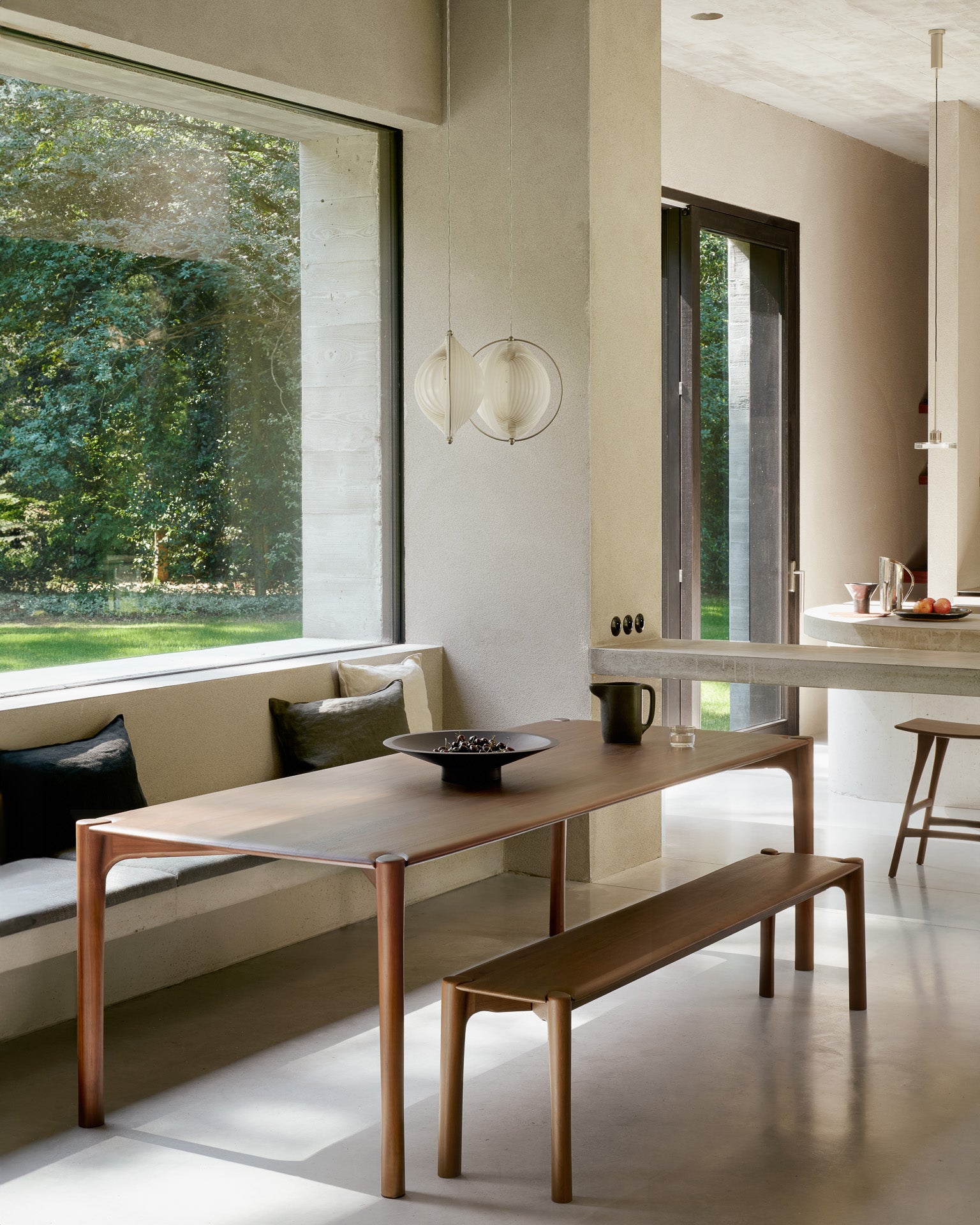 New Designs and Solid Wood Furniture Finishes from Ethnicraft
What makes Ethnicraft the best reviewed furniture available?
Ethnicraft Furniture is renowned for its exceptional craftsmanship and timeless design. With a focus on sustainability and quality, Ethnicraft creates furniture pieces that are not only visually appealing but also built to last. Each piece is carefully crafted by skilled artisans, ensuring attention to detail and a superior finish.
With their commitment to quality and timeless design, Ethnicraft pieces are investments that will enhance your living space for years to come. Bring home Ethnicraft Furniture and experience the perfect blend of beauty and functionality.
Why should you choose Ethnicraft Furniture for your home?
Unmatched Durability: Ethnicraft Furniture is made from high-quality, solid wood, which ensures its durability and longevity. Whether it's a dining table, a bed frame, or a bookshelf, you can trust that Ethnicraft Furniture will withstand the test of time.
Timeless Design: Ethnicraft Furniture embraces a minimalist and timeless design aesthetic. The clean lines and simple forms make these pieces versatile and suitable for any interior style. Whether your home is modern, rustic, or eclectic, Ethnicraft Furniture will seamlessly blend in.
Sustainable Sourcing: Ethnicraft is committed to responsible sourcing and sustainable practices. The brand uses only ethically sourced timber from well-managed forests. By choosing Ethnicraft Furniture, you are supporting eco-friendly manufacturing processes.
How can Ethnicraft Furniture transform your living space?
Warmth and Character: The natural beauty of wood adds warmth and character to any living space. Ethnicraft Furniture brings a touch of nature indoors, creating a cozy and inviting atmosphere.
Versatility: Ethnicraft Furniture offers a wide range of pieces that can be customized to fit your specific needs. From extendable dining tables to modular shelving units, you can create a personalized space that suits your lifestyle.
Functional Design: Ethnicraft Furniture combines style with functionality. Each piece is designed with practicality in mind, offering ample storage solutions and ergonomic features.
Ethnicraft never stops reimagining their work and offering new materials into the manufacture of some timeless furniture designs.
Let's see what's new with Ethnicraft Furniture going into 2024.
Now available in solid teak, the PI dining table pays homage to organic design, preserving the strength and curves of wood in their natural state. Its sleek and stylish polished imperfect finish reveals remarkable contours and features that can only be discovered by hand, allowing for each PI dining table to retain its unique character. A classic timeless design that offers both style and sophistication, the PI dining table is the perfect companion to modern interiors. It has the power to transform your dining space and elevate your everyday dining experience.
Now offered in solid oak with a walnut finish, the Bok furniture collection combines sculptural elegance and contemporary crafting into a graceful and airy form. Over the years, the Bok dining chair has become one of Ethnicraft's most recognizable furniture designs. Designer Alain van Havre combines sculptural elegance and contemporary crafting into a graceful and airy form. An iconic design finished with a timeless style that will never go out of fashion. Crafted with precision, this chair is built to last for years to come.
Now available in solid teak with a walnut finish, the Osso stools created by renowned Belgian furniture designers, are a perfect blend of form and function, offering a unique design that is both stylish and practical. Crafted from high-quality solid oak wood, the Ethnicraft Osso Stools are an excellent example of Ethnicraft's commitment to sustainable and eco-friendly manufacturing processes. The solid oak construction ensures durability, while the stool's natural beauty is accentuated by the wood's unique grain and texture. The Osso Stools embody a timeless aesthetic that can add a refined touch to any space, from cozy kitchens to ultra-modern living rooms. The stools' understated elegance combined with their excellent craftsmanship make them a beautiful and practical choice for any home.
One of our favorites and for good reason, the Ethnicraft N701 Sofa gets excellent reviews for its visual appeal, long lasting construction and exceptional comfort.
April 13, 2023
Inviting and oozing comfort and relaxation, the N701 sofa is a much-lauded design that enables versatile customization possibilities to discover the perfect seating setting for any home. Now available in the new Moss Eco Fabric. Conceived by Jacques Deneef and crafted with superior construction details and upholstery tufting, this piece comes in multiple colors and materials such as saddle cognac leather, grey, blue, and beige fabrics, as well as the new graphite eco-friendly recycled cotton that is both durable and a pleasure to the touch.
Visit our furniture showroom in Carmel-by-the-Sea, California to see Ethnicraft in person, or Ask A Question from any product page for more info. We offer fast, expert advice and white glove delivery nationwide